TAYLOR AND FRANCIS PUBLICA UN ARTÍCULO DE INVESTIGADORES DEL GICOV
La editorial británica Taylor & Francis ha publicado el artículo Developing an Index of Media Innovation in a National Market: The case of Spain realizado por los investigadores del GICOV y profesores de Periodismo en la Universidad Miguel Hernández (UMH) José A. García Avilés, Miguel Carvajal, Alicia de Lara y Félix Arias. Esta publicación forma parte de un conjunto de artículos recogidos en Journalism Studies.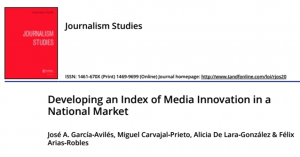 Abstract:
From a global vision of journalism innovation, this article presents a matrix that analyses and measures an innovation index of market-specific media initiatives, providing a valuable tool for comparative analysis. A method has been designed that consists of (1) sample collection and selection, and (2) the quantitative and qualitative analysis of each innovation identified in the cases studied. With the aim of generating an Index of Media Innovation, 25 of the most innovative cases within the field of reference in Spain were studied during the period 2013–2014 through a database consisting of 196 innovations that were analysed as a function of area, degree and technological basis. The results indicate that, in Spain, journalism innovation occurs at the margins of the traditional news industry and, for the most part, innovation is expanding among digital native media outlets, niche initiatives and start-ups.
ARTÍCULO COMPLETO: DEVELOPING AN INDEX OF MEDIA INNOVATION IN A  NATIONAL MARKET